Getting started with sales orders
Use the Sales Order Processing (SOP) module when you want to use sales orders to track your products and services. You allocate the products or services (stock items) to the order, record when the items are despatched and then print and send an invoice to the customer.
You can also use the SOP module to create quotes and pro formas.
Sales orders or invoicing?
You can use both invoicing and sales orders with Sage 200cloud. You don't have to exclusively use one or the other. You might want to use the invoicing module for your service items and use sales orders to keep track of your products.
Much of the setup required for sales orders is the same for invoicing so you only have to do this once.
What's the difference?
Use Sales Orders when you want to track stock items throughout the order process. Your customers raise orders with you, you allocate the stock items which reserves them for that order and prevents them being sold to someone else. When you physically send the items to the customer you record the despatch. Once despatched, you can raise an invoice for the customer.
Use Invoicing when you don't need to track the despatch of your stock items. You can raise and print an invoice at any time. Your stock levels are only updated once the invoice is posted.
The sales order process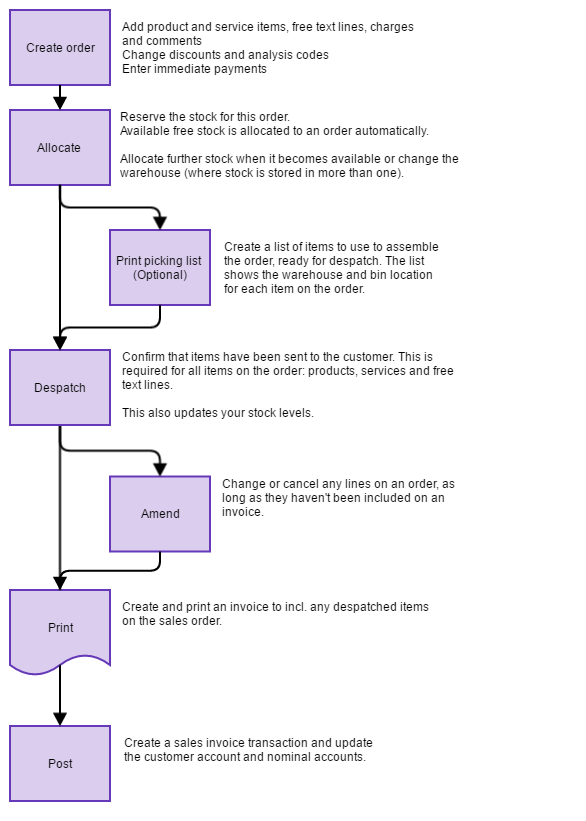 Additional processes
In addition you can create quotations and pro formas. When required, these are converted to sales orders for processing.
Invoice document
An invoice is created when you choose to print the order. Only lines on an order that have been despatched are included on an invoice. This means you can have more than invoice per order.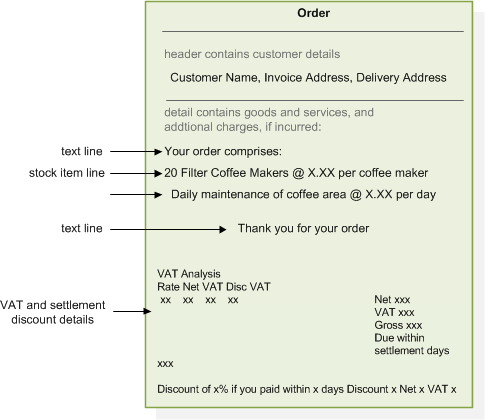 Next steps
After setting up sales orders
See also
Related information