Getting started with invoicing
Watch a video
Use Invoicing to create and print invoices and credit notes for both your products and services. You can print the invoices to send to your customers, and post them to update your nominal accounts, customer accounts and stock levels (if using).
Much of the setup required for Invoicing is the same for Sales Orders, so you only have to do this once.
Why use Invoicing?
You can produce invoices and credit notes from

Sage 200

without using the

Stock

module.
You can create your invoices and credit notes using our new grid entry form for easy data entry.
You add free text lines (plus charges and comments).
Using stock? You can add also stock items.
As there's no despatch process, you can print or email your invoices straight away.
All your invoices and credit notes are shown together in one list for easy management.
You can also report on the profitability and use analysis codes for more in depth reporting.
Where do I find Invoicing?
You can access the Invoicing options from the Invoicing section of the menu and the Invoicing list.
Can't see the Invoicing section on the menu?
This is because you haven't been given access to these options. Ask your Administrator to set this up from the System Administration.
Invoicing or sales orders?
If you're license includes the Stock, SOP, and POP modules, you can use both Invoicing and Sales Orders. You don't have to exclusively use one or the other.
You might want to use Invoicing if:
You're a service business and don't need to keep track of stock.
You don't have a despatch process.
You have no lead time between orders being placed and invoices sent out.
The despatch process has already occurred and you don't want to record it in

Sage 200

.
You might want to use Sales Orders if:
You want to reserve or allocate stock items for customer orders.
You want to keep track of your products at different warehouses.
You want to use traceable stock items.
You need to include orders in an Intrastat declaration.
You're also using the

Manufacturing

modules as

Invoicing

doesn't integrate with

Manufacturing
What's the difference?
Invoicing doesn't require the allocation and despatch of your stock items. You can create and print an invoice at any time. If you're not using stock, this is a quicker way to create invoices. If you are using stock, your stock levels are only updated once the invoice is posted.
Sales Orders require a specific order process to help you keep track of stock. Your customers raise orders with you, then you allocate the stock items which reserves them for that order and prevents them being sold to someone else. You record the despatch when you physically send the items to the customer. Once despatched, you can raise an invoice for the customer. You have to use sales orders with traceable stock items and Manufacturing.
If you produce back to back sales orders, you can only create these from sales orders and not Invoicing. Stock items on back to back orders will have a fulfilment method set to From supplier via stock or Direct to customer.
The invoice process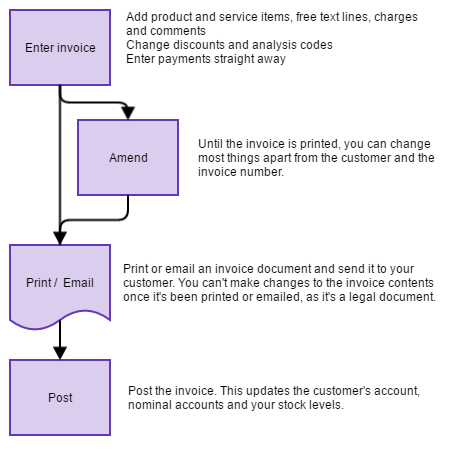 Decisions to make about your invoices
Before you start entering invoices, you need to make sure that you've set up everything you need. You can consider questions such as
Are you using Stock or just adding free text lines to invoices? You can choose the types you add to invoices in the

Invoicing settings

.
Do you have customers who pay for their goods immediately or do you need to take deposits? If so, turn this on and set up payment methods.
Do you want to use Opayo (formerly Sage Pay) to process these as card payments?
Do you want to customise the printed invoice for your company such as add your company logo etc? If so, customise the invoice layouts
Do you want to control what users can view and change on invoices such as the selling prices or discounts? If so, set this in the Invoice and order user permissions
Using stock? Do you want your staff to choose stock items stored in a specific warehouse or branch by default? If so you can set this in the Invoice and order user permissions.
Do you have regular costs that you add to your sale orders such as carriage or insurance? To save you entering the details each time, you can set up records for your charges.
Do you want to group you invoices and use analysis codes for reporting? If so then set up analysis codes.
See Setting up invoicing.